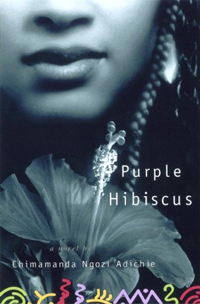 When I began reading this book I was in "review mode." I had my notepad next to me, a pen and a cup of coffee, taking little notes as I went through it. By the time I was on page 100 the notepad lay with only 2 sentences in it the pen was in my mouth and worst is that my coffee was cold! Purple Hibiscus by Chimamanda Ngozi Adichie is one of the most captivating books I have read in a while.
The book is set in Nigeria and is life through the eyes of a 15 year old girl – Kambili – as she moves through a path of religious oppression being misunderstood and rejected by her classmates and even for the larger part her cousins. The strength Kambili shows through the book though is amazing and her thoughts are very descriptive all things that make the book that much more beautiful to read
I have read a couple of reviews of the book and everyone sees the story through the eyes of Kambili, which is what I think the author wanted, to me however two characters stand out taller throughout this book than the narrator herself. Her father, Eugene, and her aunt, Ifeoma. Everything Kambili ever does is centered on these two people especially her father whose approval she seems to be constantly seeking even when it isn't anywhere near coming. She makes excuses for the man as he puts her through cruel punishments.
So maybe I should tell you a little about Eugene. He is a very powerful man who is the publisher of the only paper that dares speak against a corrupt government, a very religious father who imposes his religion on his family to the point of religious oppression. Everyone outside the house loves him and his family lives in constant fear of him. As I ploughed through this book I couldn't help but sympathize with the man. I mean, here is a man who is doing only what he knows best for his family, so strongly rooted in his beliefs that he is blinded by his own dreams.
Aunt Ifeoma is the exact opposite. A liberalist, who is a lecturer in the university and lives with her two kids, she always speaks her minds and fascinates Kambili when she can laugh so easily and speak with such ease. In fact severally it is pointed out with statements like "She laughed so easily, so often. They all did even little Chima." She opens up a world to Kamibili that she wasn't even sure existed.
The book is written in a form of soliloquy. It is like you are hearing the thoughts of this young girl who is so terrified of her father yet still dying to impress him. You feel as if you stumbled upon someone's thoughts in a room and know their deepest darkest secrets. You want to leave the room and respect their privacy but you are so intrigued by them that you stay and dine with them and before you know it you and the thoughts are having dinner together and wondering what will happen next. This lady seems to know exactly what word to call upon at whatever time.
The family in the story on the surface seems to be very different on the surface although when you look deeper there are traits that are very similar. Traits like deep rooted spirituality. Eugene is a stout catholic, his father Papa-NNukwu is a firm believer of the traditional ways and Ifeoma is as liberal as they come. Another trait is their outspokenness, apart from Kambili who has "bubbles" in her throat that keep the words from coming out, all the members are very strong willed and will not hesitate to give you their two cents on any issue.
What is most captivating is how the author delicately weaves in issues without shoving them in your face. Issues like a corrupt government, a coup de tat, failed administration and assassinations of those who try and speak the truth. She shows them from the, very mature, thoughts of the 15 year old child of one of the richest most influential people in Nigeria at the time.
I struggled with what excerpt from the book to publish this time, not for lack of a proper phrase, in fact quite the contrary, I was spoiled for choice. After much thought, I managed to pick one phrase that summed up the book for me. In this scene Kambili is watching soccer when she has this epiphany:
"…It was what Aunty Ifeoma did to my cousins, I realized then, setting higher and higher jumps for them in the way she talked to them, in what she expected of them. She did it all the time believing they would scale the rod. And they did. It was different for Jaja and me. We did not scale the rod because we believed we could, we scaled it because we were terrified that we couldn't…"
The book is the complete package. The author spins quite the impressive yarn. This is definitely a book that you must read, no matter who you are.
About The Author
Chimamanda Ngozi Adichie was born in Nigeria in 1977. She is from Abba in Anambra state, but grew up in the university town of Nsukka, where she attended primary and secondary schools. She is the author of the novels Purple Hibiscus (2003) and Half of a Yellow Sun (2006), and she has recently published a collection of short stories titled The Thing around Your Neck (2009).
She has received numerous awards and distinctions, including the Orange Broadband Prize for Fiction (2007) and a MacArthur Foundation Fellowship (2008).
Purple Hibiscus is available on amazon here
© Michael Onsando | blog 1 | blog 2 | twitter